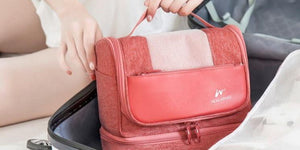 What toiletry bag to travel?
of reading - words
Traveling can be an exciting and enriching experience, but it can also be stressful to prepare everything you need. One of the most important elements on your travel list is the toiletry bag. You want to be sure you have everything you need for your personal hygiene without transporting a ton of products. In this article, we will guide you through the key elements to take into account to choose the best toiletry bag to travel.
Section 1: Size and capacity
When you choose a toiletry bag to travel, size and capacity are important factors to consider. If you travel light, a small kit may be enough. However, if you plan a long trip or if you need to transport more products, you should opt for a larger kit. You can also opt for a toiletry bag with several compartments for an optimal organization.
Section 2: Material and durability
The quality of the toiletry bag is also important. Durable materials such as nylon, polyester, or leather can withstand wear, while more fragile materials can tear or crack quickly. Look for robust zippers and solid seams to make sure that the toilet bag lasts several trips.
Section 3: Compartments and pockets
Compartments and pockets are a key element to consider when choosing a toiletry bag. Compartments allow you to easily organize your toiletries, while the pockets are ideal for storing smaller objects such as toothbrushes, razors and nail cutters. If you have fragile or bulky products, you can opt for a toiletry bag with padded compartments to protect them.
Section 4: ease of transport
You want to choose a toiletry bag that is easy to transport. The toiletries with a handful or a shoulder strap are ideal for travel. The toiletries that can be hung are also practical for easy access to toiletries. If you plan to put your toiletry bag in hand luggage, make sure it complies with airline size standards.
Section 5: Luggage in a plane cabin
If the toiletry bag you are looking for is mainly used for short plane trips, or the luggage that will be transported to the plane cabin, then it will be necessary to provide a transparent toilet bag.
Your suitcase is not put in the hold it will be automatically controlled. If you then decide to leave your toiletry bag in your luggage, it should be transparent so that customs control can see at a glance all the items being inside.
Conclusion: There are many toiletries to travel, and choosing the right one may seem a difficult task. However, considering size, capacity, materials, compartments and ease of transport, and usefulness, you can find the ideal toiletry bag for your next trip. We hope this guide will help you make the right choice for your travel toiletry bag.
---