About Us...
Welcome to the home page of Sogaïa, your destination of choice for toiletry and vanity kits, elegant and functional. We are proud to offer you A wide range of varied and innovative products To meet all your travel or storage and storage needs.
That you are looking for a Make -up vanity or makeup bag, for your cosmetic and makeup products, or a Toiletry bag or vanity for your hygiene products And of beauty during your trips, we have what you need.
Our different collections of toiletries, vanity, makeup bag and vanity makeup, are Designed to be practical and adapted according to your different needs, and thus have comfortable use. Varied designs of Our kits and vanitys, are there to respond to all your personal tastes and styles.
We offer a full range of Women's toiletries, ranging from compact models for daily use, spacious toilet kits for long trips. Our Toiletries for men are designed to meet the storage needs of grooming and shaving products. We also have a range of Toiletry kits for girls, with fun and colorful designs for young girls and adolescent girls.
If you are looking for a leather toiletry High quality, our collection is for you. We offer a variety of designs and colors to meet all personal tastes and styles. Our leather toiletries are made from real leather to guarantee a long service life and comfortable use.
If you are looking for a personalized toiletry bag, We are here for you. We offer customization options to add a personal touch to your toilet or makeup bag, with different designs and models.
Our Hanging toiletries are practical for travel, with a strap or a hook, for easy fixing to a door or a bathroom hook. Our transparent toiletries are ideal for plane trips and baggage checks, and respect the safety rules of airlines.
Our range of vanitys is one of our Strengths at Sogaïa. We propose A wide selection of vanitys for women, men and girls, in a variety of sizes and styles.
That you were looking for a Rigid vanity To protect your beauty products, a Vanity travel vanity compact for a weekend, a make -up vanity or a large make -up suitcase For your cosmetics collection, we have everything you need. We also have Vanity for girls With adorable designs and playful patterns that will delight your children.
We offer A wide variety of sizes and designs To meet all personal tastes and styles, and all the storage needs of beauty and makeup products.
We work with a large number of manufacturers of toiletry and vanitys in the world, in order to offer you The largest choice gathered in one place, your Sogaïa store! 
You also benefit from the guarantee satisfied or refunded up to 30 days, from the day of receipt of your order, to guarantee your satisfaction at 100 %.
In summary, if you are looking for a practical and aesthetic kit or vanity with a wide selection of products for women, men and children, Sogaïa is the perfect choice. With a large number of options such as personalization, rigid or flexible, transparent, foldable or suspending models, there is something for everyone and all occasions.
Do not hesitate to browse the range of Sogaïa products now to Find your Vanity Case or ideal toiletry bag!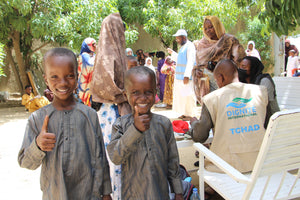 Sogaïa, partner of international dignity
"International Dignity" is an NGO that works to improve the living conditions of disadvantaged populations around the world. Sogaïa participates in its actions by paying € 1 from each sales made in the store. This sum is used to finance the creation of wells or other actions in Africa or Asia. Every year, in January, Sogaïa will publish in January of each year, an article to thank its customers and show them the value of their donation by presenting photos of the actions carried out thanks to their support.
More information
Vanity's Largest Selection
For women who apply makeup frequently, for frequent travelers, for those who are beauty professionals, or simply to keep your toiletries in one place, having a vanity case is essential.
We would even say that choosing the right vanity case is essential : it will accompany you everywhere, which is why you need a piece that meets your needs and that lasts.
These special cases are perfect for keeping all your beauty products and instruments organized and in perfect condition. With this small case you can keep all your products in one place, organized in different compartments, to avoid losing or breaking any of them.
Our vanity case consists of several compartments adapted to accommodate your beauty products and accessories . It is available in different materials, designs and sizes to suit everyone's tastes and needs.
It is a great product to keep your makeup products and tools, creams and other beauty lotions in order. They are also ideal bags to take on a trip or on the go, because they take up little space.
What we guarantee you through our collections:
-The best value for money
-High-end vanity case models
-Listening to our customers to offer you unique vanity case models
-The creation of durable vanity cases.
You will find many different vanity case models on our online store . We can also divide them into two categories: those intended for personal use such as the travel vanity, the girl's vanity or the baby vanity and those intended for professional use or for those who are a fan of makeup, such as the vanity. of makeup.
The latter are generally larger and contain more divisions than those intended for conventional use.
Anyway, and whatever you use it for, a vanity case is never superfluous. We're sure you'll find the perfect model for you depending on how you use it.
So opt for a little magic with a very trendy compact vanity case, with shapes, tones and textures adapted to each woman. Perfect for organizing your makeup products, your skincare products and or your creams in a protective and practical case to carry, say goodbye to open bottles and spilled products.
Neutral colors, with logo, metallic or quilted, choose a style and design that stand out. Our vanities are designed with the classic shape of a vanity in mind, to which is added a little retro charm, but with all the benefits you would expect from such an accessory.
Inspired by a passion for functional and useful design, at Sogaïa, we are the reference, with the largest selection of Vanity . Choose from our hundreds of vanity items for women:
Makeup Vanity, Rigid Vanity, Travel Vanity, Girl Vanity or Makeup Case, the ideal model for your brushes, lipsticks, makeup and cosmetics.
This means that each product, each compartment and each feature has a specific purpose: to help you be organized and to be able to carry your favorite products wherever you go!
A great choice for a great pleasure!
The largest selection of Toiletry Bag
Ideal for travel or to take your beauty products away from home, the toiletry bag is not useful, it is essential for storing all your hygiene products.
One of the main factors that influence the choice of a toiletry bag is the size.
Good news, we have a wide variety of models, all suitable for your family members.
You will therefore find on our online store, a collection of men's toiletry bag, women's toiletry bag or even girl's toiletry bag.
Are you concerned about the thickness and hardness of the toiletry bag, its storage space as well as its functionality?
Here too we have thought of you and have selected a wide range of hanging toiletry bags, transparent toiletry bags or large multi-compartment toiletry bags.
By browsing our online store, here is what you will find in our collections of toiletry bags:
The best multi-compartment toiletry bag
Unlike many traditional toiletry bags, this model has something very special: a very large storage space and a specific compartment for each of your toiletries.
This toiletry bag is made up of very useful segments, offering a very large storage volume where you can place your various accessories such as your toothbrush, comb, washcloth, etc.
You can also easily store your liquids for your daily toilet routine. An ideal toiletry bag if you bring the whole family's beauty products.
The best travel toiletry bag for men and women
If you are planning a trip, you should not only think about suitcases. Your toiletry bag should also be part of your plans, because when you have to carry liquids, you run the risk of spilling them.
Our collection of men's toiletry bags and women's toiletry bags offer you practical and waterproof designs, with different internal divisions so that you can store all your toiletries neatly.
You arrive at your destination with a suitcase in order and your beauty products safe and ready to use.
The best hanging toiletry bag
Having your things close at hand is always a plus. Our hanging toiletry bag collection has an internal hook that will be very useful if you want to hang it up and have one of your toiletries available.
Plus, you can put the hook away when you don't need it, so it doesn't get in the way. Our toiletry bags are made up of several compartments, the main compartment and side pockets, for optimal storage of your products.
A real treat for anyone who likes to save space in their bathroom!
The toiletry bag can be carried comfortably with the rest of your luggage. Since it is not very large, it is not too bulky and is easy to place among the rest of your belongings.
In addition, most of our toiletry bags have a built-in handle that makes it easy to carry from place to place, or hang it up to have everything close at hand. All this without sacrificing its elegant, modern and varied design.
To go further, we offer you several guarantees.
The material of our toiletry bags is durable and comfortable.
High resistance with a toiletry bag that won't chip or crack.
A model that never goes out of style: Our toiletry bags are timeless and do not suffer from passing fashions.
elegance
It is breathable: this avoids moisture problems and protects your beauty products even better.
A great choice for a great pleasure!
Our guarantees for your satisfaction

Parcel tracking included

Secure payment by SSL encryption

French customer service by phone, email or chat

Order shipped within 24/72H

Free delivery in France for all packages

Satisfied or refunded for 30 days