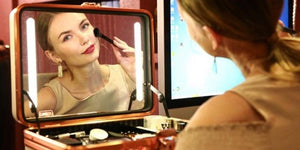 How to transport your make-up on the plane?
of reading - words
Are you flying and would you like to bring your make-up? You might be wondering what the rules are at the airport when it comes to make-up and how does the airport deal with make-up in carry-on baggage?
With all the different rules about what you can and can't take on a plane in your hand luggage, it's no wonder you're confused about certain products.
Rest assured. Our team has conducted its investigation and knows exactly how to answer all your questions.
In this article, we will see together:
What to do if you have to take makeup on the plane

If it is possible to take make-up in your hand luggage

Tips for storing make-up and beauty products in your hand luggage.
You probably prefer to pack your makeup because you need a particular brand or product and aren't sure if you'll find it where you're traveling.
We give you all the advice to carry your make-up or cosmetic products in your hand luggage and avoid having them confiscated when you pass through the airport security check.
Let's start right away.
I - Products considered as make-up
We can't start without clarifying which products are considered makeup by customs and airlines. The list is quite long, but here is a small non-exhaustive list of the main products that are considered makeup:
Mascara

Blusher

Lipstick

Eyebrow pencil

Eye shadow

translucent powder

Concealer

Eyeliner

Powder

Liquid makeup remover

moisturizing

Suntan lotion

Conditioner
Of course, it is not necessary to take all these products with you on the go. So you should only choose essential cosmetics. No need to take everything you need with you.
If you are going to a sunny destination, you will surely need to bring sunscreen or tanning milk to protect your skin from ultraviolet rays. A detail, but which is important, to avoid being too busy.
Another requirement that you must observe when transporting makeup is to be careful not to transport flammable products, since for safety reasons this type of substance is prohibited.
If this is the case, the authorities may withdraw this product from you. To avoid this inconvenience, you must check the label of the container for signs indicating whether it is flammable or not.
Finally, we also recommend that you use plastic containers whenever possible, although there are no regulations prohibiting the use of glass containers.
However, keep in mind that glass is quite fragile and if a container breaks it can cause a real mess in your hand luggage.
II - Can we bring make-up on the plane?
Make-up or cosmetic products are totally authorized, both in the cabin and in the suitcase you are checking in.
The problem only arises when your cosmetics are liquid.
If you regularly travel with makeup in your hand luggage, it is therefore important to answer this question. First, it is best to examine your makeup and determine which items are liquid and which are not.
Any liquid toiletries or make-up must comply with the airport liquid rule. This means that each container of makeup must be less than or equal to 100ml and all containers must fit in a clear 1 liter bag.
Make-up called "solid" like lipstick is allowed. Eyeliner pencils are allowed. Your make-up brushes are also allowed. Powder makeup is allowed, but it too must follow certain rules.
Can you take powder makeup on a plane?
The quick answer is yes, you can pack makeup powder in your carry-on.
But even with your non-liquid makeup, there are things to consider with the powder rule. The powder rule means that any powdered substance over 350ml may be subject to additional screening.
Powders are still allowed and there is usually no need to take them out of your bag for a separate check, unless they are over 350ml.
So if you have powders that exceed this limit, and your airline's website says they are not allowed, you will need to make a selection accordingly.
Can makeup be carried in hand luggage if it is liquid?
Again, as we told you above, liquid make-up is allowed in hand luggage provided that each container does not exceed 100 ml and that it is stored in a plastic bag or a transparent travel vanity. one liter capacity.
If you're traveling with liquid foundation, liquid lipstick, or any other liquid makeup product, make sure your containers are small enough and pack them in your travel kit.
If possible, it's best to pack solid makeup in your carry-on to limit the amount of liquids you have to manage while travelling.
Can you take perfume on a plane?
Perfume being a liquid, the answer is yes, up to a point.
As with other liquids, your perfume bottle should not exceed 100 ml. Do not take a larger bottle of perfume in your hand luggage, otherwise it will be confiscated!
Try to find small travel perfumes or a solid stick perfume.
If you travel by plane with perfume, be aware that it can be irritating for some people. Being stuck on a plane for hours next to someone wearing perfume can be overwhelming for someone who is sensitive or allergic.
Be considerate and go easy on how much perfume you wear, or better yet, don't wear it at all until you get to your destination.
III - Tips for storing make-up in your hand luggage
If your plane ticket includes checked baggage, you will have no problem carrying liquids, cosmetics, makeup or beauty products in it.
But if you've bought a plane ticket and want to avoid paying a check-in fee or just want to pack light and skip the lines at baggage carousels, take note of these tips for carrying makeup. and beauty products on the plane.
The first thing to do is to be familiar with the rules regarding liquid products on airplanes, and to know that inside the transparent bag there is space for a maximum of 10 bottles of a maximum of 100 ml, this which should be enough to carry everything you need.
And if you run out of space, you can always buy makeup or cosmetics at your destination. Sometimes we realize that where we are going the products are cheaper.
The second idea is to switch to solid products. This is one of the best solutions: replace liquid make-up with a compact, liquid make-up remover with make-up remover wipes, spray deodorant with a stick deodorant, and for lip and eye make-up, use solid pencils .
These products should pass the checks with flying colors and are generally more durable.
If you only use a particular product or brand and there are no small containers, remember that it is very easy to get your hands on 100ml containers or travel sets . Pour the liquid into these containers and travel with your makeup everywhere!
Finally, you have the possibility to buy your make-up in the duty-free zone of the airport. Keep them in the sealed package they are sold in so you don't have any problems getting through airport security, and wait to open them when you arrive at your destination.
With all of these tips, we're sure you'll know exactly how to carry your makeup on a plane.
IV - Store your make-up in a make-up bag
Now that you know you can pack your makeup in your carry-on and know how to carry it, it's time to choose the best makeup bag for you.
Not only to prevent containers from breaking - and spilling - but also to organize them to your liking.
We have selected for you models of make-up bags which, in addition to being very cute, are spacious and do not exceed the measurements allowed by airlines in hand luggage.
Discover them quickly and share with us in the comments your tips for transporting your makeup on the plane.
Fred P.
January 5, 2022.
---