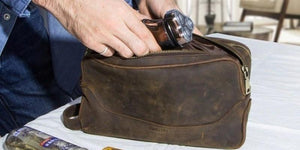 What to put in a men's toiletry bag?
of reading - words
Are you going on a trip and it's time to pack your bags? Would you like to use your toiletry bag, but don't know what to put inside?
You are in the right place. Our team knows exactly how to help you.
The toiletry bag contains all the essential toiletries. It's a compact and organized way to store skincare products and everyday items in one place.
In this article, we'll go over everything you need to know about packing a men's toiletry bag . What is it, what size and style to choose, but above all what you need to put inside to have the most functional toiletry bag.
Let's find out right away.
I - Men's toiletry bag: Everything you need to know
Before getting to the heart of the matter, and discovering what a men's toiletry bag should include, let's see together everything you need to know about the toiletry bag.
1. What is a toiletry bag
In simple terms, a toiletry bag is a small container (made of canvas or leather) used to hold the hygiene products you need when traveling.
Toiletry bags have many names: travel kit, travel kit, or body hygiene kit. You may also hear about vanity , but we'll tell you about it in another dedicated article. A toiletry bag, whether fabric or leather, should be kept simple.
2. Why use a toiletry bag
You can store many items in a toiletry bag. Whether you're going on an overnight trip or spending a week in a foreign country, the toiletry bag is a great way to store your small items.
Generally, you know what you use every day in the bathroom, so it will be easy for you to know what you need to pack.
Be aware, however, that your toiletry bag is not just about simple toiletries. These are the items that you use on a daily basis, so it is necessary not to ignore some items that you might sorely miss if you do not take them with you.
3. What size for a men's toiletry bag?
The size of your toiletry bag will depend on the number of products and objects that you use on a daily basis and that you want to take with you.
It should be small enough not to take up too much space in your bag or suitcase, but large enough to hold all your toiletries. Have an idea of ​​the toiletries you plan to bring before choosing your kit.
4. What style for a men's toiletry bag?
Choose a style of toiletry bag that you prefer. Even if all toilet bags look the same at first glance, there are several models. The difference is in the interior compartment.
The "classic" toiletry bag has only one general compartment. A more elaborate men's toiletry bag has several pockets and pockets so that everything is well organized.
Finally, there are models of hanging toiletry bags. These have a hook that allows them to be hung in the bathroom for convenient use. As soon as you pack up, the hanging toiletry bag rolls up to save space in your suitcase.
Next, let's take a look at the items you should pack in a men's toiletry bag.
II - What products for a men's toiletry bag
Before you start to prepare your toiletry bag, make sure that everything you take can be closed tightly. There's nothing worse than arriving at your destination and having your things covered in toothpaste.
Also, make sure your travel toiletry bag is waterproof and leak-proof, to prevent items in your toiletry bag from leaking onto the rest of your luggage.
Without further ado, discover our list of the 10 essential items to pack in a men's toiletry bag.
1. Shower gel
Whether it's a soap or a small bottle of your favorite shower gel, it's an absolutely essential product. Pack just what you need for your trip, and remember that a little product can go a long way!
2. Shampoo and conditioner
Another great classic for a men's toiletry bag. You don't need to bring your industrial containers of shampoo and conditioner when you go away for a week. Prefer small plastic containers in which you will pour a small amount.
You can also choose to bring dry shampoo. It's a more efficient way to pack shampoo and you can use it while traveling without worrying about finding a water source or drying wet hair.
3. Comb
The comb is a grooming tool that every man should have at hand. It does not take up space and is very useful.
No need for a big, bulky brush - a good metal comb will last you a lifetime, and even help you reduce your plastic consumption.
It is also suitable for facial hair, especially if you want to shape a stubborn beard.
It's a classic tool for all your styling needs.
4. A good reusable razor
Forget cheap plastic disposable razors - they just create waste and don't give you a good shave. By investing in a good reusable razor (usually metal), you'll have a product that you can use endlessly, replacing only the part you need.
Plus, replacement blades can be found all over the world.
5. Toothpaste and a collapsible toothbrush
A collapsible toothbrush will do two things: it will save valuable space, and it will also keep the bristles clean. For toothpaste, opt for the travel model. No need to take your biggest tube with you.
6. A travel sewing kit
A sewing kit is something every well-groomed man should have on hand. You don't need anything fancy. It doesn't have to be big - just a needle and thread for fixing emergencies like a shirt or trouser button.
7. Deodorant
Avoid large, short-lived aerosols. Bring a small deodorant stick to save space. You will also avoid having yours confiscated at the airport. A stick deodorant is the ideal format to slip into your toiletry bag to refresh yourself in an emergency.
8. Earplugs
If you can sleep through the noise, you don't need it. Choose earplugs (that's probably how you know them) made of silicone, which block all outside noise. And you can wash them!
For planes, trains, or even noisy cities, these plugs can be the quickest way to get some peace and quiet while traveling or trying to lay down somewhere new.
9. Nail clippers
If you want your nails to look great, these little nippers are well worth the little space they take up. They can also be very useful if you need to cut a loose thread or heal a wound. (cut a piece of skin for example)
If, on the other hand, you're a stickler for cleanliness on your feet, it's worth buying a small pair of good quality metal nail clippers with a file. They will last you a lifetime.
10. Essential medicines
Remember that health comes first. One of the hardest things to organize in a foreign country is medicine and health care, so take regular medications like paracetamol, aspirin and a suitable medicine pouch.
Our last piece of advice: Whenever possible, always take your medication in its original packaging.
III - It's your turn to pack your toiletry bag
You are now an expert in preparing a men's toiletry bag . You know exactly what you need to put in there for the most successful trip.
By being organized, you will never be in a hurry when it comes to packing your kit and you won't forget any beauty products. Having everything in order will help you focus on the trip, whether it's a weekend getaway or a very important business trip.
Remember that a well-stocked toiletry bag will allow you to easily find the items you need in an emergency.
Finally, do not choose a size that is too large. If you're flying, make sure it's a standard-sized bag that will maximize the space and weight of your suitcase.
Fred P.
September 2, 2021.
---