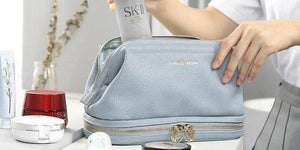 What to put in a women's toiletry bag?
of reading - words
Traveling with a toiletry bag full of items may seem like a necessity. A necessity that can weigh heavily if you're the type to take all your beauty products with you. But there are tips for preparing a women's toiletry bag .
If you think packing a toiletry bag is all about getting things out of the bathroom sink and into the suitcase, this blog post is for you!
Men have the luxury of being able to use the same shampoo, conditioner and soap, only needing deodorant and sunscreen.
Women have a little more stuff to pack, so here are some tips to help you condense your toiletry bag, so you have more room for memories.
Let's find out right away.
I - Choose your women's toiletry bag
This is perhaps the most underrated of all bags. The toiletry bag can be the difference between a disaster that leaks and destroys your clothes and tidy elegance.
We all devote time and money to nurturing our collection of makeup and skincare products. So it only makes sense to keep our precious toiletries in the best bag there is.
All women want a nice toiletry bag that allows them to store all their essentials neatly and travel for a long time. But what else should a woman take into account in her toiletry bag?
If you ask us, the best toiletry bags should be spacious enough to hold all your essentials while being small enough to fit in your luggage or travel bag.
They should be durable, practical (if they have organizational compartments, even better), easy to clean and stylish.
II - What should a women's toiletry bag contain?
There aren't really any set rules on what you can put in a toiletry bag. But in general, it is designed to hold essential toiletries and beauty products such as shampoos, face creams, combs and brushes, and sometimes even your makeup.
To make it easier for you, we have prepared a small list of essential products that you must have in your toiletry bag.
Basic products
Hair cleanser and conditioner : In other words, you need some kind of hair shampoo and conditioner. If too much liquid worries you, opt for a solid shampoo bar. Dry shampoo can also be a good addition that will help you reduce the amount of liquid shampoo you bring. Remember to pack only what you need to save space and weight.
Body soap : We recommend that you opt for a classic soap to reduce the amount of liquids. If space is an issue, try cutting a normal-sized bar soap in half instead of paying more for travel soap bars in stores.
Face moisturizer : All women need a face moisturizer. To kill two birds with one stone, choose a UV protector, as you'll likely spend more time in the sun during your trip. Try to opt for a moisturizer that you can use day or night.
Face wash: Pack your favorite face wash or acne cleanser. With new diets, changes in sleep patterns and increased use of public transport, rashes are inevitable when traveling.
Having some face wash will keep your face clean. Depending on your skin type, a face wipe may also be a good option.
Toothbrush : It's obvious! If you want to be minimal, opt for a travel size brush or a brush that folds in half.
Toothpaste : Just like the brush, toothpaste keeps you clean and fresh. Choose travel size tubes or try something different like toothpaste sachets or tablets.
Dental Floss : Dental floss is an indispensable item. Not only is it vital for your oral health, but it can also be used as a string when needed to sew up holes and tie up small items.
Razor : If you can handle going a few days without shaving, you might want to wait until you get there to buy a disposable razor. Or, get waxed before you leave the house and ditch the razor if you can.
Deodorant : Opt for a solid deodorant to reduce your fluid intake. If you want something that is not confiscated at the airport, you can also wait until you arrive at your destination and buy it there. We're sure you'll find deodorant wherever you go.
Cotton swabs and makeup remover cotton : To clean your ears and remove makeup or dirt. Put a handful in a zippered bag before putting them in your toiletry bag.
Extra products
Hair products : Leave-in conditioners, hair oils, hair sprays and dry shampoos.
Skin products : Body lotion, cuticle cream and body spray.
III - Tips for choosing your toiletry bag
Choose a small functional toiletry bag
Just like choosing your luggage, a larger toiletry bag means you risk filling it with things you don't really need.
You'd be surprised what you can fit into a small kit. And if you do it right, we're sure there will still be a little room to put something else if necessary!
Choose your toiletry bag according to your luggage.
Are you going to check your baggage in the hold or will you be traveling light with hand luggage?
If you are only taking hand luggage, your liquid toiletries must be placed in a transparent toiletry bag which can be checked at security.
Before leaving, think about what you will take with you and for how long you will be leaving.
Prepare your toiletry bag
Packing is an important task, regardless of the type or duration of the trip. And if there is one thing you don't want to forget: it's your toiletries!
With the right women's toiletry bag, you can avoid spills, simplify your packing routine, and stay organized. No more fumbling around to find what you need.
Ultimately, there's no magic, one-size-fits-all list of toiletries that will work for everyone, but making sure you have the essentials is a good start.
Use our list and make sure you only take the products you need on the trip. Give it a try to make sure your toiletry bag is the right size for your goal.
Avoid carrying a toilet bag that is too bulky or larger than necessary.
Finally, let us know if you want to add anything to this list in the comments below. Or, share your favorite toiletry bag with us!
Fred P.
November 7, 2021.
---