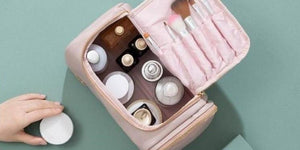 How to prepare your makeup vanity or makeup bag?
of reading - words
Many are not good at tidying up or have little time to devote to it. However, taking a few minutes to organize your affairs from time to time allows us to save precious time on a daily basis. To overcome this inconvenience, I will explain how to make the best use of your toiletry bags and your vanities to optimize your spaces while protecting your products.
We can never say it enough, "compartmentalize" remains the key word of the maneuver. Whether traveling or at home, the principle remains the same. To do this, you should classify your products by "family" and choose the appropriate container for each family.
Makeup
Let's start with the makeup. For example, to store your various pencils (taking care to put their caps back on each time!), you can opt for a pencil case. It doesn't matter if it's hard or soft, the main thing is to keep your pencils safe and in one place so you don't have to constantly search for the one you need, and which, of course, is always the one. who slyly hides behind the others. If you take care to close the caps of your pencils, their mines will remain in the state where you left them (well sharpened of course!), and your case will always remain clean.
If you also want to put your pencil sharpener in your pencil case, which is a good idea so you don't have to look for it in the morning when you're in a hurry, remember to clean it well after each use. Even if it has a removable tank, it's hard to avoid ugly black marks on your pretty kit. Remember to equip yourself with a stick to clean the blades. Also remember to use a pencil sharpener for your eyelash-brow pencils and another for the lip pencils. Often the colors mix and alter the rendering of your makeup.
You can also put all your lipsticks in the same bag, again, taking care to close them properly. Ditto for nail polish, compacts, eyeliners, etc.
If you are more of a vanity than a kit, and if you want to store all your makeup in one place, you can choose a vanity with several zipped pockets and elastic bands to hold pencils and other potentially messy products.
Hygiene products
For your hygiene products, it is the vanity-case that is essential. Choose a large and rigid one, which is always easier to clean in the event of an incident. Here, it is advisable to place its flasks and bottles upright, well wedged using the rubber bands of your vanity. If it is full, the bottles will hold each other and stay in place. And like with makeup, you no longer have to comb through all your drawers and cupboards to find the product you need. Preferably, put products that open from the top, because if your vanity is full, the pressure that the different containers exert on each other can contribute to the accidental opening of products that close by the top. low and thus dirty the bottom of your vanity. If this were to happen, a wipe with a sponge would be enough to thoroughly clean a rigid vanity.
If you fell for a flexible vanity case model, no problem, this one also has its uses! To make it last a very long time and avoid washing it too often, put "safe" products in it, for example, your solid soap, your shower flower, your washcloths, your hair clips, etc.
beauty tools
Finally, collect your beauty tools in the case or vanity of your choice, depending on the quantity of objects you have. Tweezers, scissors, eyelash curlers, manicure and pedicure accessories... You can store all your tools in the same place, but for better hygiene, take care to put each one in an appropriate compartment or provided for this purpose. You can also use a foldable multi-case. If you opt for the toiletry bag, consider disinfecting your tools more often, and always keeping your kit spotless to avoid infections due to the accumulation of bacteria and microbes.
If you're not a morning person, I suggest you equip yourself with transparent cases and vanity cases to spot your products at a glance.
With these few tips, you can not only save a considerable amount of time in the morning, but also save money by guaranteeing a better longevity for your products. So a little courage, the start of the school year will only be sweeter!
(PS: All photos are of items sold in the Sogaïa store.)
Miss June
September 4, 2021.
---