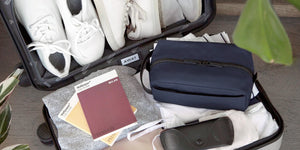 How to pack a suitcase?
of reading - words
Are you going on vacation and it's time to pack your suitcase? Wondering where to start and how to make sure you don't forget anything?
Be sure. Today, you're going to discover our experts' advice on the best way to pack your suitcase to save time when preparing for your trip.
When preparing for a trip, it is always useful to have a list of essential items to pack for your stay and to know how to organize your suitcase.
In this article, we are going to see together how to organize ourselves so that everything fits perfectly in your suitcase, but also a list of the essential elements to take with you for a successful holiday.
Let's find out without further ado.
I - Choose the right travel bag for your trip
Before getting to the heart of the matter and seeing what you are going to take, you must first find the travel bag or suitcase that will be adapted to your stay and your needs. You need something that's versatile, big enough to hold all your stuff, and most importantly, something that's easy to carry. You will agree, there is no point in taking a suitcase that is too big if you cannot carry it.
Take into account the length of your trip, whether it's an international vacation, whether you're using budget airlines, and your main activities - all of these considerations impact which bag is best for you. travel.
The most important decision you will make (when it comes to your luggage) is to buy a bag or suitcase that has a quality design. If a wheel of your suitcase or the handle breaks due to the weight of your suitcase, we might as well tell you that it's off to a bad start!
Let's take a quick look at the different travel bags you can use.
Classic or wheeled suitcase: It is the practical side here that takes precedence. Square, large storage space, the suitcase is and will remain a travel essential. You can also consider a wheeled suitcase, if you don't feel like carrying your own at arm's length. Highly recommended when you have a lot of walking to do.
Wheeled Backpack: If you need to traverse different types of terrain, or go from airports to cobblestones, having a bag with the ability to roll it up or carry it as a backpack really comes in handy.
Travel Backpack: If you don't want the added strain of wheels, traveling with a travel backpack means hands-free mobility and ultimate versatility.
Hand luggage: Finally, whenever possible, travel with hand luggage. It allows you to save time at the airport, to have your personal effects at hand and you are sure not to lose it at the airport. From

the classic

backpack

to the small

travel vanity

, again it will depend on how many objects you plan to take with you.
Now that we've covered everything you need to know about the type of luggage you put your stuff in, let's go over the different steps to packing like a pro.
II - Folding your clothes
Classic folding
This is the easiest way to store your clothes in your suitcase. Lay out all your folded clothes. Then place soft clothes, which are the most flexible, at the bottom of your suitcase.
Stack your long clothes, like pants and long-sleeved shirts, on top of your loose clothes.
Finally, place collared shirts, sunglasses, and other accessories that require gentle handling on top so they don't get crushed by larger items.
Roll your clothes
Rolling up your clothes can help save space and prevent wrinkles. This is a great method if you're traveling with a gym bag or backpack and want to fill every corner of it. It lends itself well to casual wear and fabrics such as denim, knits and synthetics.
By keeping your clothes and other items neatly in place, you'll maximize your suitcase space and uncover extra nooks and crannies where you can hide other items.
III - Prepare your toilet bag
An important question that may concern you is how to lighten your luggage. The best place to start is with your makeup, toiletries, and beauty products.
Take only the items you will really need and those you cannot buy at your destination. Look for travel-size versions of all your essentials.
Also follow the tips below.
1. Choosing your toiletry bag
Whether you're planning a weekend getaway or spending the summer abroad, one thing's for sure: you need a reliable way to transport and organize your essentials.
When reviewing toiletry bags for travel, it can be difficult to make a wise choice.
The advice of our toiletry bag expert ? The size of your kit.
Considering the size of a toiletry bag is one of the most important things when choosing a toiletry bag . It's tempting to buy the most compact toiletry bag to save space - or on the contrary, you can decide to choose the largest, in order to take all your products with you.
Try to maintain a balance. Take with you the toiletries that you consider essential. Then choose a toiletry bag that offers enough space to accommodate them, but takes up reasonable space in your backpack or suitcase. If, on the other hand, you have too many items, it is better to buy a family toiletry bag .
2. Never carry full bottles
You are allowed to pack items in containers larger than 100 milliliters, as long as you place them in your checked baggage.
It is generally recommended to avoid full bottles. The storage compartment where your baggage is kept during a flight is not pressurized. So there is a good chance that your bottles will open and spill onto your clothes during the flight.
Keep all your bottles three-quarters full of liquid to prevent your clothes from being ruined.
3. Bring multi-use toiletries
The best way to pack toiletries in your luggage is to choose small size multi-purpose toiletries. Multi-purpose shampoos and soaps are usually sold in small packages, which saves you a lot of space.
Plus, with multi-purpose soap, you'll be able to wash your hands, shoes, and clothes without having to spend money on three different products.
IV - Pack accessories and fragile objects in your suitcase
You don't have to leave your jewelry or breakables behind. Here are some tips for getting those items from point A to point B successfully.
1. Use a jewelry organizer for accessories
Accessories can be quite tricky to pack, so consider investing in a travel jewelry organizer to keep necklaces untangled and other items secure.
Stash these items in a separate bag or a small compartment in your suitcase to ensure they stay in place.
The last thing you want is to have to rummage through your suitcase fearing you've lost something.
If you don't have a jewelry organizer, you can just as easily choose a makeup bag or a small travel vanity that can fulfill this function perfectly.
2. Wrap your clothes around breakables
Carefully pack all fragile items that are at risk of breaking. An easy way to do this is to wrap fragile items in the clothes you plan to take on the trip, such as a soft cotton T-shirt. Secure these items firmly in your suitcase so that they cannot shift.
Consider packing breakables in your carry-on so you can control the movement of your bag.
V - Put the shoes in your suitcase
Shoes are often the most difficult item to pack because they're bulky, oddly shaped, and can leave marks on your clothes. Wear your bulkiest shoes on the plane, if possible, and pack lighter shoes in your suitcase.
Here are more tips for packing your shoes in your suitcase while saving space.
1. Respect the rule of three pairs of shoes
Consider the rule of three when packing shoes in your suitcase:
Bring a pair of sandals/slippers

A pair of comfortable sneakers

Plan a pair of "chic" shoes for the evening.
2. Stuff your shoes with small items
Your shoes are a great place to store small accessories and valuables. You can easily slip things like chargers, goggles, and socks into your shoes to save space here and there.
3. Put your shoes in individual bags
Place your shoes in individual shoe bags, cloth bags or plastic bags inside your suitcase. This will prevent dirt from staining your clothes or other shoes. You'll be grateful for these bags if you happen to step in a puddle or get your shoes dirty during your trip.
Your turn to pack your suitcase
Most people don't think about packing their bags before they go on a trip. Often people pack their bags the night before the trip - and things can get stressful fast.
With all these tips, you now know how to pack a suitcase effectively. You will no longer have any problem preparing your trip.
If we had to give you one last piece of advice, it would be to reduce the number of your essentials to the bare minimum and pack your suitcase carefully using the different techniques we shared with you above.
And you, do you have any other tips for packing a suitcase? Feel free to share them with us in the comments.
Fred P.
November 23, 2021.
---