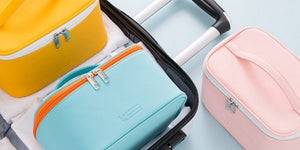 How to choose a travel toiletry bag?
of reading - words
This will depend on several factors : the length of the stay, the means of transport, alone or with family, etc. It's good that we're talking about it now, the holidays are (finally) in the news !
For a weekend:
In principle, you will need less stuff than for a stay of a week or more. For those who like to travel light, the toiletry bag will do just fine . You take your toiletries, your aesthetic survival kit and you're ready for two days! Remember to take two small cases rather than one in order to separate your hygiene products from your make-up , this will save you from unpleasant little accidents.
If you are traveling as a family , it is according to your preferences. You can take an XXL format kit to put all the family's hygiene products, and a small kit per person for the specific needs of each.
The advantage of the toiletry bag is that you can carry it all day in your handbag for everyday needs. Otherwise, you can choose the foldable multi kit . You assign a case to each member of the family, you fold or roll up the whole thing, and presto, in the suitcase! A great way to centralize the belongings of the whole tribe to avoid looking for them everywhere. Once at your vacation spot , you no longer need to look for a place for everything, all you have to do is hang everything in your bathroom to optimize your space.
And in any case, if you travel with baby , his personal vanity must absolutely be there . Its practical design will allow you to carry it around all day without feeling cluttered.
For the holidays :
This is where large formats come in . On vacation, we necessarily need more things. In fact, we absolutely need everything! So either we multiply the kits (always remember to compartmentalize well), or we fall for the vanity!
To put your makeup away, the vanity remains the best option. You will certainly find the one that will contain all your products in the wide range of vanities offered. Its size will depend on the number of objects you put in it, but even the smallest ones are generally generous in terms of space and storage tips.
If you plan to put your vanity in a travel bag , it is better to choose it flexible so that it adheres better to the contents. If, on the contrary, your luggage is rigid or if you plan to keep your vanity as hand luggage, you can choose both flexible and rigid.
If you expect jolts during your trip , by car for example, opting for a rigid vanity would make your products more secure. Also consider suitcase-vanity sets. Hung on each other, they are practical to use and give off a very neat and very chic image.
If you are flying:
The transparent toiletry bag is a must-have! To show your credentials at the airport , plan one per person to put all your liquid products in.
Reminder: The capacity of each bottle must not exceed 100 ml, and the sum of your liquids must not exceed 1L . In addition, your kit must respect the regulatory dimensions, i.e. 20 cm x 20 cm maximum. Fortunately, we have everything planned! Among our many kits specially designed for travel, you will certainly find those that are suitable for the whole family!
Here is what to consider a serene holiday. All you have to do is combine business with pleasure and have fun on Sogaïa!
Miss June
July 14, 2021.
---